Single Sitting Root Canal in Khar
The single sitting root canal treatment is carried out in cases where the tooth decay or fracture is very deep and involving the pulp. The pulp if the soft centre of the tooth having nerve endings responsible for causing pain and other sensation.
In simple terms it means the removal of the infected or damaged pulp tissue within the tooth and replacement by artificial biocompatible inert filling material. Single sitting root canal treatment is carried out under the influence of a local anesthetic and is painless.
Root canal treated teeth have a tendency to become brittle with time therefore must be protected with a crown.
Who is this treatment for?
Root canal treatment is for a patient complaining of severe toothache while chewing food or severe pain while taking hot or cold liquids, darkening of the tooth when the patient meets with an accident, a long standing dental infection in the bone and in case of severely worn out teeth where crown (cap) is being advised by the dentist. It is the best way to preserve a natural tooth.
1. PRE TREATMENT PREPARATION
A detailed consultation should be done with the dentist to understand why there is a need for root canal treatment. Digital X – raysare also required before and during the procedure. Find out the various reasons to save the natural tooth from your dentist. The procedure is usually done under antibiotic coverage and you may have to start the medication 1 or 2 days prior to it.
2. PROCEDURE
It is ideally a single sitting procedure where Local anaesthesia is administered to numb the tooth and surrounding area, a small opening is made in the biting surface of the tooth. Dead and or dying tissue is removed from the pulp chamber and the root canals are cleaned, disinfected and sealed to prevent future infection.
In cases where there is a source of infection present it can need multiple visits till your infection subsides.
3. POST TREATMENT CARE
For 24 hours after root canal treatment of the tooth:-
– Your tooth may feel tender or sensitive for a few days. You can take over- the- counter pain killers or as prescribed by your dentist to relieve pain or discomfort.
– It is a concern if you have pain that lasts more than a week.
– A crown is usually needed to protect the tooth following root canal treatment.
– Don't chew on the affected tooth until symptoms subside and the tooth has been restored as necessary.
– Avoid biting finger nails, pens cap, pencils etc and avoid using your teeth to open bottles or to tear packets.
NOW LET THE PICTURES DO THE TALKING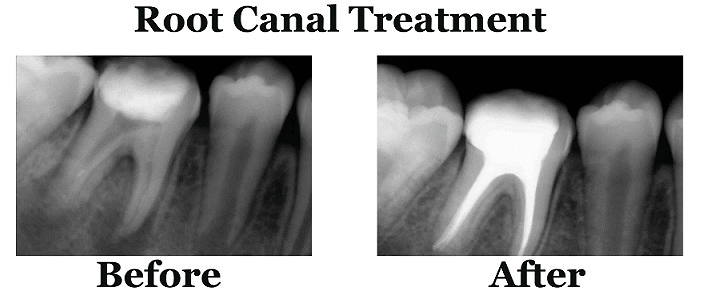 Root Canal Treatment Cost in Mumbai
To find Root canal treatment cost in Mumbai, various factors have to be considered. Even so, It happens to be hard to estimate any cost without some fundamental factors.We at Dr Krinita Motwani's Dental Clinic has enlisted a few of the common aspects that can help to determine the ideal Root Canal Treatment cost in Mumbai. The root canal treatment will involve a specific procedure that determines the cost of your treatment.
They are listed below:
1) Choice of your Dental Surgeon (Novice/Specialist)
2) X-Rays and Consultation Charges
3) Anaesthesia and some other needed medications
4) Root Canal location (Front or Back)
5) Level of damage
ROOT CANAL TIPS TO REMEMBER
– Maintain oral hygiene by regular brushing twice a day and flossing.
– Visit your dentist every 3 – 6 months.
– Eat healthy foods like green vegetables, fruits and dairy products like milk, cheese.
– Drink plenty of water before and after meals so the unwanted food particles are flushed out.
– Limit the consumption of acidic foods and beverages like tea, coffee, fizzy drinks.
– Limit the consumption of sticky foods like pizza, candies, chocolates etc.
– Avoid biting finger nails, pen's cap, pencils etc and avoid using your teeth to open bottles or to tear packets.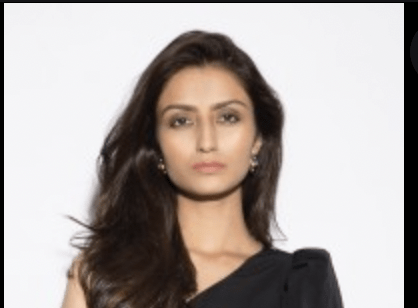 Forum Vastani
Actress, Mumbai
I have gotten my hairlike gap filling done from Dr. Krinita Motwani and I am throughly very satisfied by her work. The little the work the more fineness needed. I loved the finishing of her work and would look forward to get any further teeth related treatment done from her 🙂
Mahek Bhatia
Pastry chef, Mumbai
All my apprehensions of Dental treatment were taken care of by a painless tooth extraction. Very happy with the services received at Dr. Krinita Motwani's Dental Clinic. Would definitely recommend.
Jaanvi Peswani
Designer at Myst ( Shoe Store ), Mumbai
I approached this with great trepidation and a little fear, all that changed instantly. From the start you gave me confidence. The attention to detail, care and effectiveness of my treatment has been amazing.

Kinjal Bhutala
Cardiovascular and Pulmonary nurse - Florida
Initially I was a little wary of coming to India and getting cosmetic treatment for my deficient smile. But when I saw the ambience and hygiene combined with great quality of dentistry with a highly professional approach, I was convinced. And surely the overall outcome didn't let me down at all...
Arjun Bajwa
Actor / Model, Mumbai
Very pleasant experience and happy with the dental treatment

Archana Gore
Housewife - Mumbai
I was so troubled by one ugly yellow tooth right in front of my mouth. I consulted a lot of dentists and tried many different treatments but nothing helped. Finally I heard of Dr. Krinita from my friend and visited her...

Shikha Shivlani
Actress, Mumbai
I had a great experience with Krinita and now I have a perfect set of teeth with a beautiful smile 🙂 All thanks to her!

Meena Satle
Actress, Mumbai
I had multiple gaps in between my teeth which made me concious whenever I smiled. Dr. Krinita fixed the gaps and gave me a very natural and beautiful smile.

Abhilash Kumar
Film Actor, Mumbai
Thank you for making my teeth looks more beautiful & shining. Loads of love
Abhishek Nigam
Television Actor/ Dancer, Mumbai
Good ambience. Amazing clinic. Best Dentist
Ashish Kapoor
Actor, Mumbai
Wonderful experience. Going back home with a bigger better smile. Thank you Doc

Eisha Chopra
Tv Actor, Mumbai
Doc! I'm gonna be smiling with all my teeth from now! Thank You!

Garima Jain
Actress, Mumbai
You are an inspiration to many, so to me as well... keep up the great job. I could see the fire in you, which is infectious. Big Hug.

Karan Jotwani
Model, Mumbai
Not so embarassed to show my teeth anymore YAYYY!! Thank You Dr. Krinita

Kinshuk Vaidya
Film Actor, Mumbai
1st time for checkup? Use those dental benefits before they expire!! Thank You so much really happy with the results.
Nalini Negi
Television Actress, Mumbai
Happy for the treatment. I'm loving my new smile. God Bless You!

Nikhil Sharma
Youtuber, Actor, Mumbai
Thanks for such a wonderful appointment. My teeth feels so good & refresh. God bless. Hope to see you next year.

Vishal Karwal
Television Actor, Mumbai
Thanks Dr Krinita, to all the wonderful smiles.
Shanice Shreshta
Lifestlye Blogger and Vlogger, Mumbai
I love how friendly doc is! Also made this first experience for me wonderful!