Who is this treatment for?
Braces are for those who wants to correct their smile's symmetry. All abnormality in tooth like crooked, spaced or crowded teeth etc can be corrected and aligned by braces.The final result after Braces enhances your smile and gives a boost to your personal and professional life.
1. PRE TREATMENT PREPARATION
A detailed consultation should be done with the dentist to understand the advantages and disadvantages. Find out various types of braces like metal ceramic or Clear Aligners from your dentist and which one will be best for you and your teeth. An OPG X-ray will be advised to study the mouth and jaws for better planning of the treatment.
Professional photographs and Models are made of your teeth before starting treatment. Professional cleaning of teeth should be done prior to the braces procedure.
Don't forget to ask your orthodontist for His/ Her qualifications and experience in the field of braces. Your orthodontist can also show you before and after images of cases similar to yours, for you to get a better understanding of the final outcome and quality of work.
2. PROCEDURE
Once you and your doctor establish that braces is the right treatment option for you, your doctor will take impressions, photos and x-rays of your teeth. Depending on which type of braces whether metal, ceramic or aligners you choose the procedure is started. For example if you go for aligners your doctor will take impressions, photos and x-rays of your teeth and sends your records to the lab with a prescription for your custom aligners.
The Lab uses your records to create exact 3D models of your teeth and fabricates aligners on them. Aligners have to be worn for 20 – 22 hours per day ,wearing the aligners less frequently will prolong your overall treatment time and only removed for eating, brushing and flossing.
We will schedule regular appointments usually about once every two weeks to check the progress and move on to the next set of aligners. The goal of these visits is to ensure that your treatment is progressing as planned. The total treatment takes 6 months to a year depending on the amount of correction required
3. POST TREATMENT CARE
Post treatment care will totally depend on what type of procedure you are going for. – For example if you go for an aligners eating and drinking won't be affected while treatment time. In fact, you are required to remove your aligners to eat and drink.
– Brush and Rinse them with lukewarm water. Never use boiling water as it's heat can damage the aligners plastic resin.
– Use an orthodontic brush to maintain oral hygiene.

– Wear a retainer after treatment to prevent your teeth from moving again.
– Visit your dentist every month.
NOW LET THE PICTURES DO THE TALKING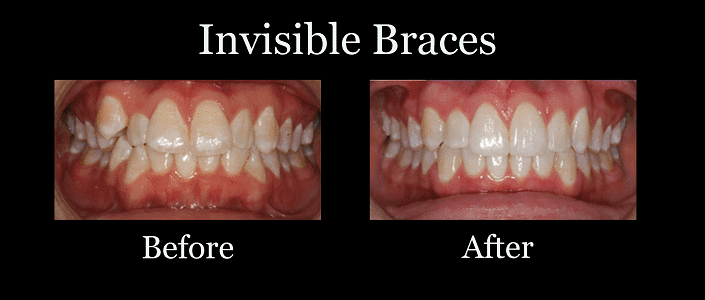 INVISIBLE BRACES TREATMENT TIPS TO REMEMBER
– Maintain oral hygiene by regular brushing twice a day and flossing.
– Visit your dentist every 3 – 6 months.
– Eat healthy foods like green vegetables, fruits and dairy products like milk, cheese.
– Drink plenty of water before and after meals so the unwanted food particles are flushed out.
– Limit the consumption of acidic foods and beverages like tea, coffee, fizzy drinks.
– Limit the consumption of sticky foods like pizza, candies, chocolates etc.
– Avoid biting finger nails, pen's cap, pencils etc and avoid using your teeth to open bottles or to tear packets.
Worried about Invisalign cost in Mumbai Protruding teeth spoiling your smile Get invisible Braces at Dr Krinita Motwani s Dental Clinic, Khar Mumbai We offer a discreet solution to straighten your teeth