Tips to get that pearly white smile like your favorite celebrities!
When your favorite celebrity walks down the red carpet in all their designer glory, have you ever noticed that what sparkles the most is not their shimmery dress or gorgeous jewellery but their beaming smiles? This has undoubtedly made you ask this question at least once in your head- how to get perfect teeth like celebrities that you have come to adore so much?
While some of them may be blessed with naturally perfect teeth that can make their smiles light up the room, others have to work to maintain a beautiful set of teeth. But if you are a celebrity, you have a group of stylists catering to each little aspect of your appearance, and that includes maintaining their perfect pearly whites like they are. But we're here to tell you how to get perfect teeth like celebrities without having your own personal team of stylists.
We believe the best answer to this commonly asked question- how to get perfect teeth like celebrities- are veneers. There are, unfortunately, many misconceptions about veneers. But if you want to achieve perfect teeth without a single blemish, then trust us, veneers are definitely the way to go. Keep reading to know more about this magical solution.
How to Get Perfect Teeth Like Celebrities with Veneers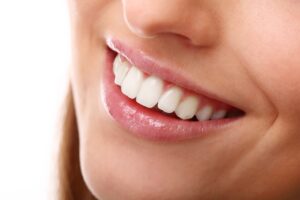 So, what exactly are veneers? Veneers are thin shells that are permanently bonded with your teeth to improve their appearance. They come in the natural white color of teeth and are most commonly made using resin-composite materials or porcelain.
Usually used to address cosmetic concerns, veneers can help fix a chipped or broken tooth and also help to create a symmetrical, even-toned smile. They are most commonly applied to the eight front teeth in the top row of your mouth as they are the ones highlighted in a smile. 
Veneer application can seem like a complicated process, but with the help of an experienced dentist, we can assure you it will be worth it! There are both intensive-prep and minimal-prep methods by which you can achieve a perfect smile with veneers.
Intensive-Prep Veneers: Typically, the application of traditional veneers require intensive prep work. Applying these traditional veneers, usually made of resin-composite materials or porcelain, involves grinding down the tooth structure, often past the enamel, to allow proper placement. This process requires an anesthetic. The actual tooth reduction, however, varies individually by taking factors such as the number of teeth involved, the severity of the situation and your cosmetic goals into account.
Minimal-Prep Veneers: These veneers require a certain amount of alterations and tooth preparation too but compared to the other method, these are minimal. Specific brands of porcelain veneers exist for this less invasive process. The process of application of minimal-prep veneers only affect the enamel, that is the layers of the tooth underneath is not removed. They also don't require anesthetics or temporary veneers.
A dentist could show you how the end result is expected to look using a wax model. Always make sure you are satisfied with it before moving forward. So yes, now you know how to get perfect teeth like celebrities by opting for various types of veneers but are they the only way to go? Definitely not. Here are a few more tips that can help you on your path to achieving a beautiful, pearly-white smile.
Tips to Maintain a Perfect Smile
Whether you have opted for veneers or not, these tips tell you how to get perfect teeth like celebrities and more importantly, maintain them like that.
Good Oral Hygiene
Good oral hygiene not only maintains the longevity of your veneers but also helps in overall oral health. Brushing, flossing and rinding with a non-alcoholic mouthwash can help you avoid plaque and bacterial build-up.
Insufficient dental hygiene can lead to numerous avoidable problems such as receding gums, tooth decay and even the complete loss of your teeth if prolonged.
Avoid Staining Foods and Smoking
To a point, your teeth can naturally avoid stains. However, if you want to keep up your sparkling smile, you have to take certain measures to facilitate it too. Staining foods and beverages include coffee, dark sodas, soy sauce, red wine and more. Completely avoiding the consumption of these might be impossible, but take care to reduce it and rinse your mouth if consumed.
Similarly, cigarette smoke is the worst offender when it comes to teeth stains. Quitting smoking not only helps in maintaining the color of your teeth but also your overall physical health.
Use Electric or Sonic Wave Toothbrushes
Ordinary toothbrushes work fine when it comes to keeping the health of your teeth intact. But an electric toothbrush, which is becoming increasingly common these days, can help with buffing your enamel to remove stains in a way you cannot do manually.
Sonic wave toothbrushes are an improved version of electric toothbrushes. They use ultrasonic waves and up to 31,000 strokes per minute to shift stains and plaque. They also have various modes for cleaning plaque, whitening teeth as well as massaging gums.
Regular Dental Check-Ups
Make your dentist your best friend! Dentist visits should not be something that you do when you find a cavity in your teeth. You should visit your dentist at least twice in a year for check-ups to make sure your teeth are actually as healthy as they look to you. This will ensure that any issues
Avoid Using your Teeth as a Tool
We should not have to mention this, but it is a very common practice to use your teeth as a tool. Using your teeth to open packets, crack nuts, bite your nails and even open bottles can cause irreversible damage such as chipping to your teeth or even veneers if you have them.
Similarly, grinding your teeth might be something you do unconsciously, especially in your sleep. The long-term effects of this on your teeth is extremely negative and if you have a tendency to do this, we recommend you wear a mouthguard to bed.
Get Smiling Today!
Now that you know how to get perfect teeth like celebrities, get started on this journey with your dentist today. Book a consultation today to understand what works best for you.